Treatment of ciliopathy through cholesterol control
Research Themes
Elucidation of physiological functions of ciliary cholesterol and pathological mechanisms of ciliopathies via dysfunction of ciliary cholesterol
The target molecules are identified in ciliary cholesterol trafficking
Infrastructure development for therapeutic drugs against ciliopathies and cancers
Research Contents
●Advocate a new concept for treatment of ciliopathies through ciliary cholesterol controls.
●There are currently about 130 orphan ciliopathies with unknown etiology and pathology. Drug development with ciliary cholesterol controls may have a positive effect on a range of diseases.
●Ciliary cholesterol is a drug discovery target for polycystic kidney disease
●Formed a screening cascade to search for a ciliary cholesterol control agent
Objective and Aim
Through elucidation of the physiological functions of ciliary cholesterol and the pathogenesis of related diseases, we aim to develop an infrastructure for therapeutic drug development targeting ciliopathy and cancer.
Promising markets, products and industry sectors
●Ciliopathy (polycystic kidney disease, retinitis pigmentosa, etc.)
●Cancer
Summary
●Research on diseases proceeded independently until now, has been unified and refocused on cilia cholesterol dysfunction. Cilia cholesterol controls pose a new concept for treating ciliopathy.
●There are currently about 130 orphan ciliopathies with unknown etiology and pathology. Drug development with cilia cholesterol controls may have a positive effect on a range of diseases.
●Dysplasia of the constituent peroxisomes of intracellular cholesterol transport pathways (Zellweger Spectrum Disorder) present renal cysts and retinitis pigmentosa on the ciliopathy spectrum. We first demonstrated that ciliary cholesterol controls an extracellular signal receptor mechanism.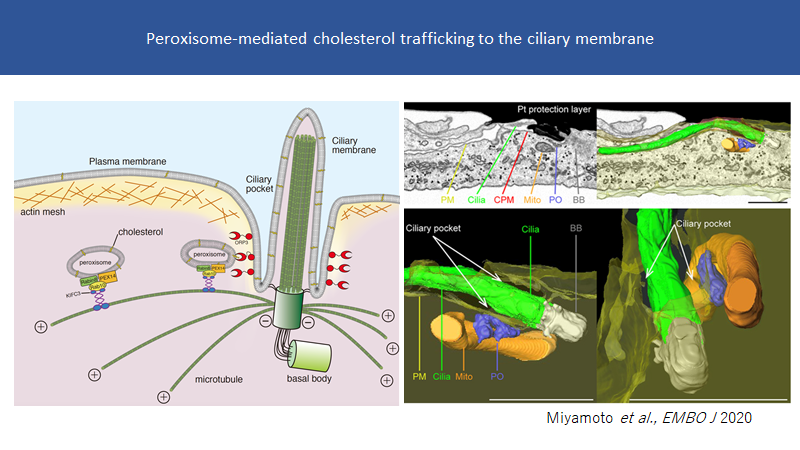 Appealing Points
●Genome-editing technology has been applied to establish a ciliopathy model cell library
●The target candidate molecules have been identified in ciliary cholesterol transport
●A screening cascade has been constructed to search for a ciliary cholesterol control agent
●All necessary equipment used for fine localization analysis of cellular cholesterol can be used under the management of Hiroshima University. The university has a research environment that is made for pioneering and strongly promoted research of ciliopathy development mechanisms.
Patents
●Patent application 6246258: Polypeptides containing DNA-binding domains
Research Paper
●Tatsuo Miyamoto et al. "Insufficiency of ciliary cholesterol in hereditary Zellweger syndrome." The EMBO journal vol. 39,12 (2020): e103499. doi:10.15252/embj.2019103499
●Tatsuo Miyamoto and Shinya Matsuura. "Ciliopathy in PCS (MVA) syndrome." Oncotarget vol. 6,28 (2015): 24582-3. doi:10.18632/ 5244
What we need from partner companies
●Collaboration in a search for compounds that control cilia cholesterol
●Joint research with a company that can collaborate on external funding
Exhibition Event
●Name: BioJapan, Regenerative Medicine JAPAN2020
●Dates: From Wednesday, October 14 through Friday, October 16, 2020
●Location: Pacifico Yokohama

For companies interested in the above project, please contact us from the link below.